Credit: Gary A. Vasquez-USA TODAY Sports
Gilbert Burns has called for a fight with Nate Diaz but instead may end up with a grappling match against Jake Shields.
Gilbert Burns and Jake Shields trade barbs on Twitter
Yesterday, second-ranked Ultimate Fighting Championship welterweight Burns was very busy playing matchmaker on Twitter. Following his UFC 264 victory over Stephen Thompson, the former title challenger is in need of a new Octagon dancer partner. In a series of tweets, "Durinho" went about searching for one and checked in with top-ranked and big-name talent Leon Edwards, Jorge Masvidal, and Nate Diaz. Unfortunately for the 35-year-old, none of those men responded to the Brazilian's inquiries for a cage fight.
However, while Burns didn't get any interest from those active competitors, he did find a taker in former UFC contender, and Strikeforce middleweight champion Jake Shields. Shields is a long-time teammate of Diaz's, and took exception to Burns' tweet stating the Stockton bad boy was a "b*tch ass fake gangster" and "your teammates that I already beat knows what I would do to you." Shields was confused by the claim and responded in kind.
"Not sure what teammate of Nate you beat because I remember beating you and a draw another time," Sheilds wrote. "I'll give you another shot if you think you can beat me. But so far you are 0-1 against [Nate Diaz] teammates."
The bouts being referenced by Shields, 42, are a pair of grappling matches the two have had over the last few years. One, being a 2017 Submission Underground bout won by Shields in overtime. And the second came at Quintet Ultra two years later. Burns was awarded that matchup by judge's decision.
Shields calls for a grappling triology bout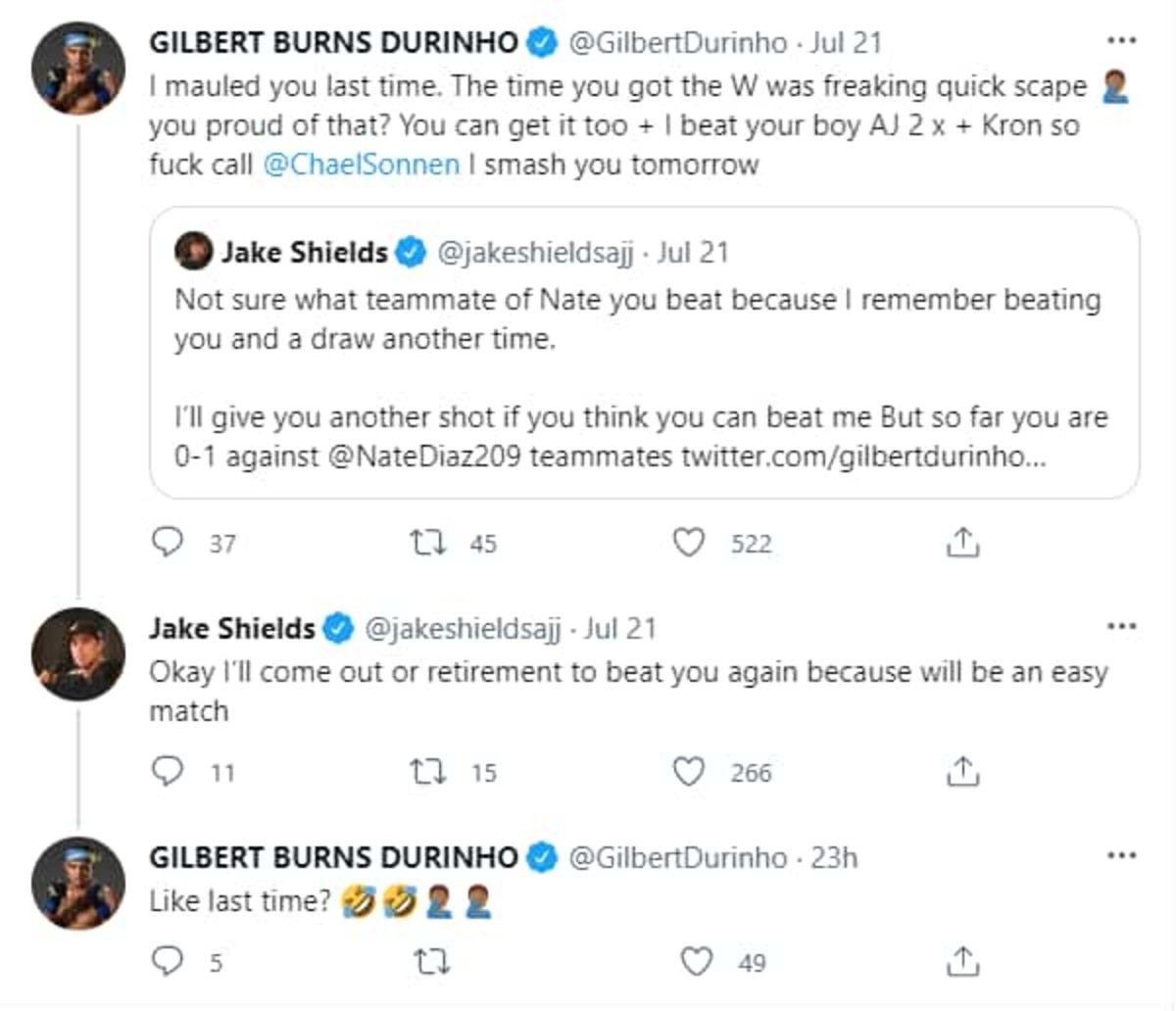 The spat between the top welterweights from different generations did not end there, however. As Burns countered by saying he "mauled" the Californian the last time they faced off, and questioned how he earned his victory in their original grappling encounter. He also listed his Diaz teammate hitlist.
"I mauled you last time. The time you got the W was freaking quick scape. You proud of that? You can get it too [plus] I beat your boy AJ [two times and] Kron so f*ck call [Submission Underground owner Chael Sonnen]. I smash you tomorrow."
The now-retired former Elite XC welterweight champion answered back again by saying he would come out of "retirement to beat" Burns in what he called an "easy match."
Shields' last mixed martial arts outing was a 2018 knockout loss to Ray Cooper III in the Professional Fighters League. However, he has been an active competitor on the grappling scene since then, with his most recent outing being a defeat to former Bellator lightweight champion Brent Primus in Submission Underground.
Would you be pumped for a grappling trilogy bout between Burns and Shields?

Join the discussion on this topic…