There are star athletes, and then there are national sports icons. In the United States, men like Tom Brady and Lebron James have reached that upper echelon of sports fame. ONE Championship's Aung La Nsang shares a similar designation in his native Myanmar. He has seen the highs of that lofty status in parades and even having a statue made for him. However, in recent months he has seen the dark side of that unique notoriety. As he has felt the blowback of a frustrated nation in the midst of a military coup.
Aung La Nsang on the dark side of being a Myanmar sports icon
In February, the country once known as Burma was thrown into civil unrest after the nation's military rose up and overthrew the democratically ruled government and imprisoned elected officials. Since then, thousands have been killed or hurt as citizens have protested in dissent against the nation's new ruling faction.
Before his April light heavyweight title defense at ONE on TNT IV, Nsang spoke out publicly on his displeasure of the coup, and of hundreds of citizens being murdered in their resistance to the governmental change. In most cases, a public show of support from thousands of miles away would be enough. However, when you are a national icon, those individuals are often held to a different standard. And unfortunately for Nsang, he bared the brunt of frustrated and powerless people, believing he had the power to do more than he actually could.
"As a mixed martial artist, there's not much I can do. Since I was the first world champion in Myanmar, everybody expects that I'm like the hero," Nsang told MixedMartialArts.com. "I'm not Superman, I can't just take away their troubles, and they get mad at me, and they take out a lot of their frustrations on me. And if you look at my social media during that time, man, I got some hateful messages."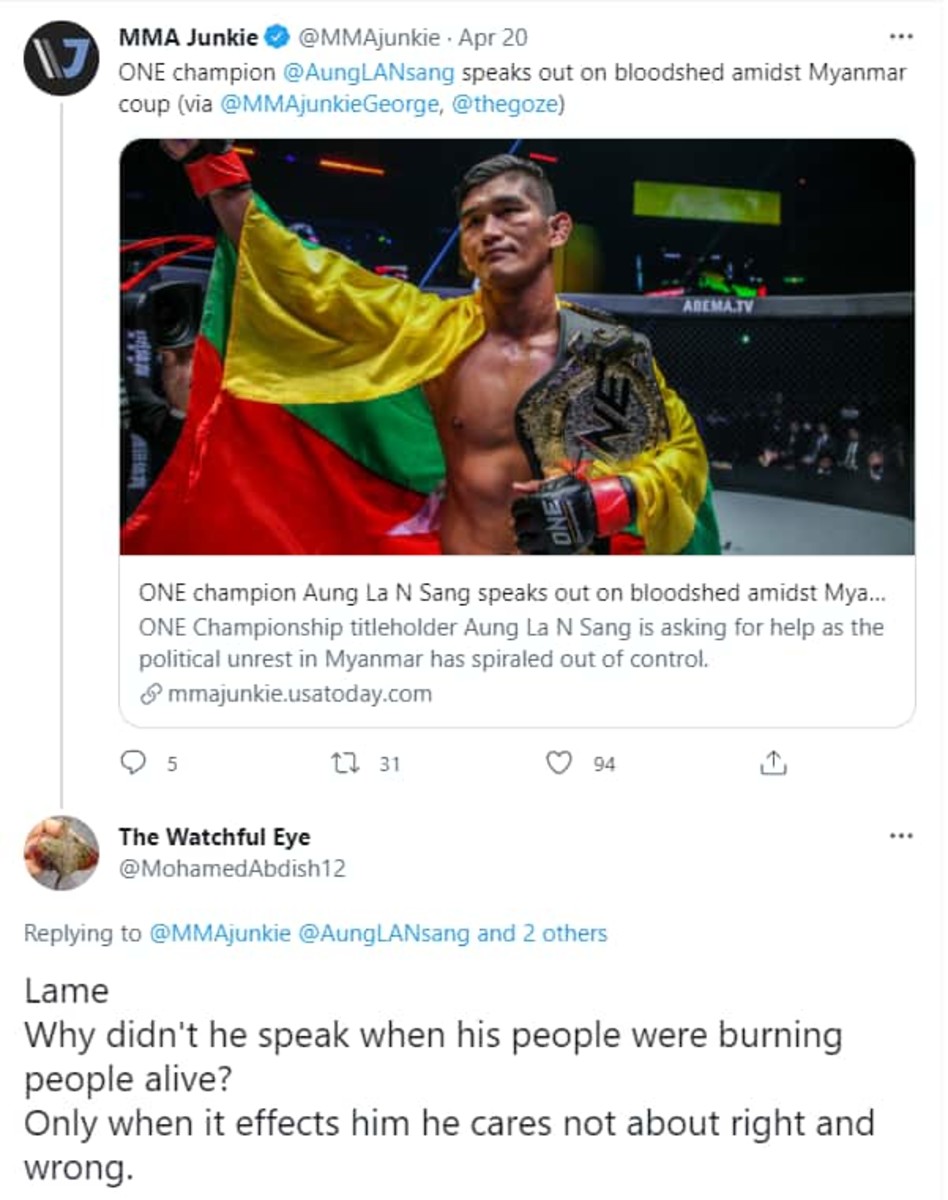 The stinging rebuke received by Nsang, 36, before and after his loss to Reinier de Ridder has stayed with the veteran fighter ever since. He yearns to have the power to make a difference in Myanmar, but in the end, a professional athlete has little influence on politics. His status, as notable as it is in Myanmar, has limitations and he wishes his supporters understood they are equals in this fight against injustice. The harsh response has hurt the former two-division champion enough that it's forced him to rethink plans for an eventual move back to his home country.
"It's bigger than me. It's not like I can wish it away or do anything to make it stop. And the sad part is the people that think I can," says Nsang. "I had big plans man. I had big plans for moving back, working there, and doing something good, but I feel like my future is like; I've got to change it now … When it's so hurtful and so personal, it's hard."
Yet despite the harsh blowback from some in Myanmar, Nsang understands their frustrations. In a country that endured over 50 years of military rule, it's heartbreaking to see the fall of democracy and progress after just a decade.
"I know how they feel. Just imagine this. Whoever you voted for [in an election], and they win, and they get arrested and get imprisoned. Imagine in the 'States if this happened. It would be crazy. You would feel so powerless, so helpless, and you would feel so angry," Nsang said.

"They voted for a party, they won, and they think everything is good, then they lose it all. And I get it, and where their frustration comes from. It's like everything they dreamed for is gone. I sympathize with them, but at the same time those messages were really hurtful towards me."
Despite the hate, Nsang sees much to be thankful for
Nsang must still put his feelings aside, and prepare to return to the cage on July 30, in the co-main event of ONE Championship: Battleground. There is a very different feeling going into this fight than there has been in a long time. He won't be defending a title for the first time in years, and he has to try and end his first losing streak since 2012. However, despite the recent disappointments in his career and personal life, in regards to Myanmar, "The Burmese Python" still feels he has much to be thankful for. As he looks to reclimb the ladder to his former spot at top of the middleweight mountain.
"I always try to be the best version of myself. Competition is against myself. I won the world title [and] I did it when I had less resources, less training partners, not as high-level guys around me [as now], and I still did it. So I can do it again. I believe 100% I can do it again, and that I will do it again," says Nsang.

"I get to do what I love. Not many people can say that. Regardless of how sore, how tired, and how fatigued I get in training, I get to wake up and do what I love. To me that's a blessing. And I get to be in the United States of America. For me that is already a big blessing. "
ONE Championship: Battleground will take place in Singapore, at the Singapore Indoor Stadium. The event will air on Bleacherreport.com, the B/R App, and on the Bleacher Reports YouTube channel at 8:30 am ET.