"It was kind of a short path, but I'm not here for a long time, I'm here for a good time." – Jasmine Jasudavicius
Jasmine Jasudaivicus (5-1) competes on Tuesday's episode of Dana White's Contender Series. After only six fights she is one win away from earning an Ultimate Fighting Championship contract. Being this close to every mixed martial artist's ultimate goal in so few fights isn't the norm, but being a 32-year-old prospect surrounded by a bunch of 20-somethings inside the UFC APEX isn't the norm either. However, it all jives with her unusual journey to this life-changing opportunity on Sept. 14.
Jasmine Jasudavicius had an unusual journey to DWCS
The Canadian wasn't some child martial arts prodigy or a Muay Thai world champion before she entered MMA. Actually, before she joined the sport she was working at a youth homeless shelter — a job she enjoyed and hopes to return to once her fighting pursuits are over. No, instead, a chance interaction with UFC veteran Jason Saggo at a Prince Edward Island gym spawned the impetus for the career she is now completely immersed in.
"I was always an athlete and I was always scrappy, and my personality type is just a go with it, 'let me bang bro' kind of mentality. And so it's more like MMA found me, as opposed to me finding MMA," Jasudavicius told MixedMartialArts.com.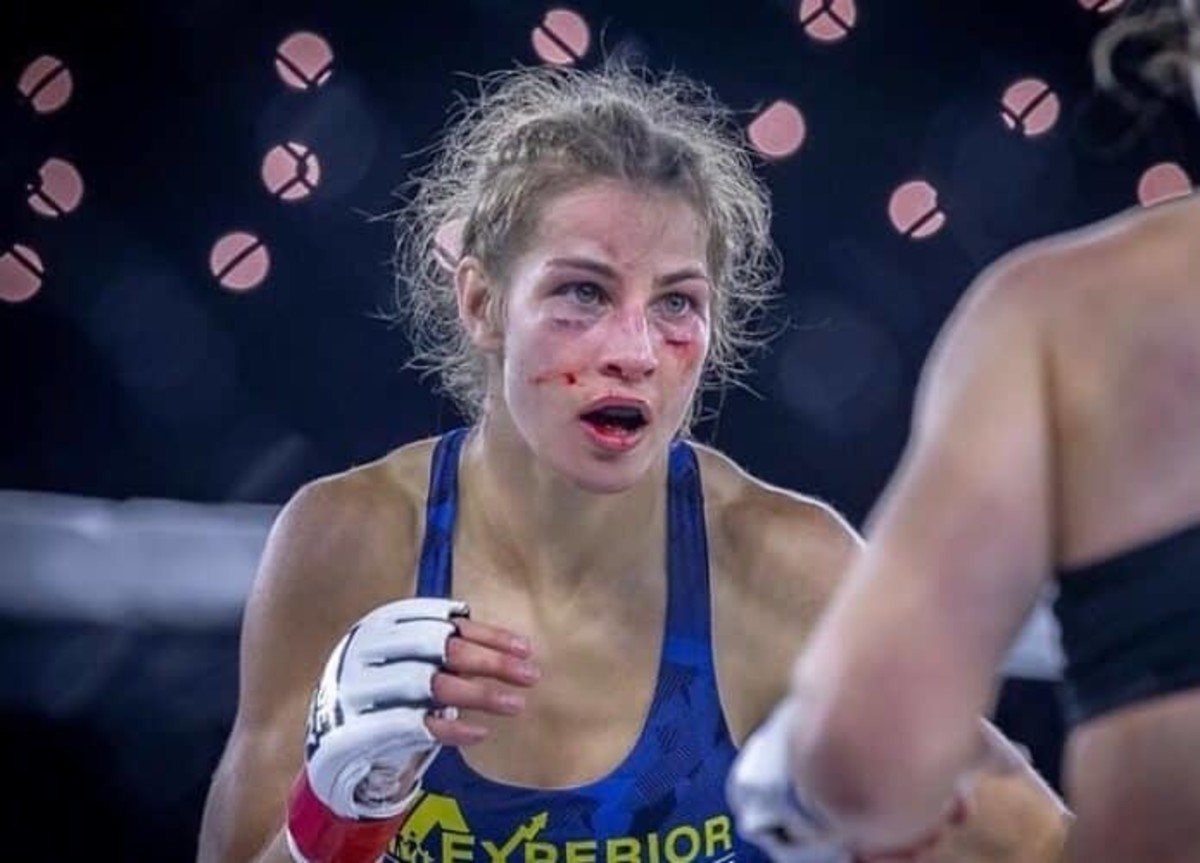 Although she did follow the sport back when the legendary Tito Ortiz was still a star of the Octagon, she fell out of it until it, as she says, found her. Now, she is so in love with MMA that it is her full-time job. Something that can be uncommon for fighters at this stage of their careers. Where many have day jobs that allow them to moonlight as a prizefighter. Making MMA a full-time venture is partially from her dedication to evolving as quickly as possible, but also because she is resourceful with her finances.
"I just don't really spend much. When I'm eating, I eat everything. I get the chicken with the bones, and I'm boiling the bones to make some broth. Resourceful," she says with a grin.
Jasudavicius' MMA journey has been as unpredictable as her life journey
Since this was never some lifelong pursuit, Jasudavicius did not plot out every minute detail of her path to hopefully reaching the UFC. Her career has been about taking up every opportunity she could and building up her hype. Well, that unplanned-planned seems worked and now she has an opportunity of a lifetime on episode three in this season of DWCS. An opportunity she doesn't plan on wasting.
"The goal has always been the UFC, and I was always going to take whatever opportunities presented themselves along the way. I would never really look past my next fight, so when I finished a fight it was just back to training, and wait for the next fight opportunity to come," says Jasudavicius. "And just jumping on those opportunities when they present themselves. Then obviously, the more opportunities you jump on, the more hype that gets behind you. Then something like this happened and I'm not going to waste the opportunity I have."
The veteran of Cage Fury Fight Championship is definitely further along in life than most of the fighters usually competing on the long-running series. However, having experienced many ups and downs in life she feels more mentally prepared than her contemporaries fighting on Tuesday night. She admits she has dealt with some hard times and doesn't expect to be rattled by the high-pressure situation to come.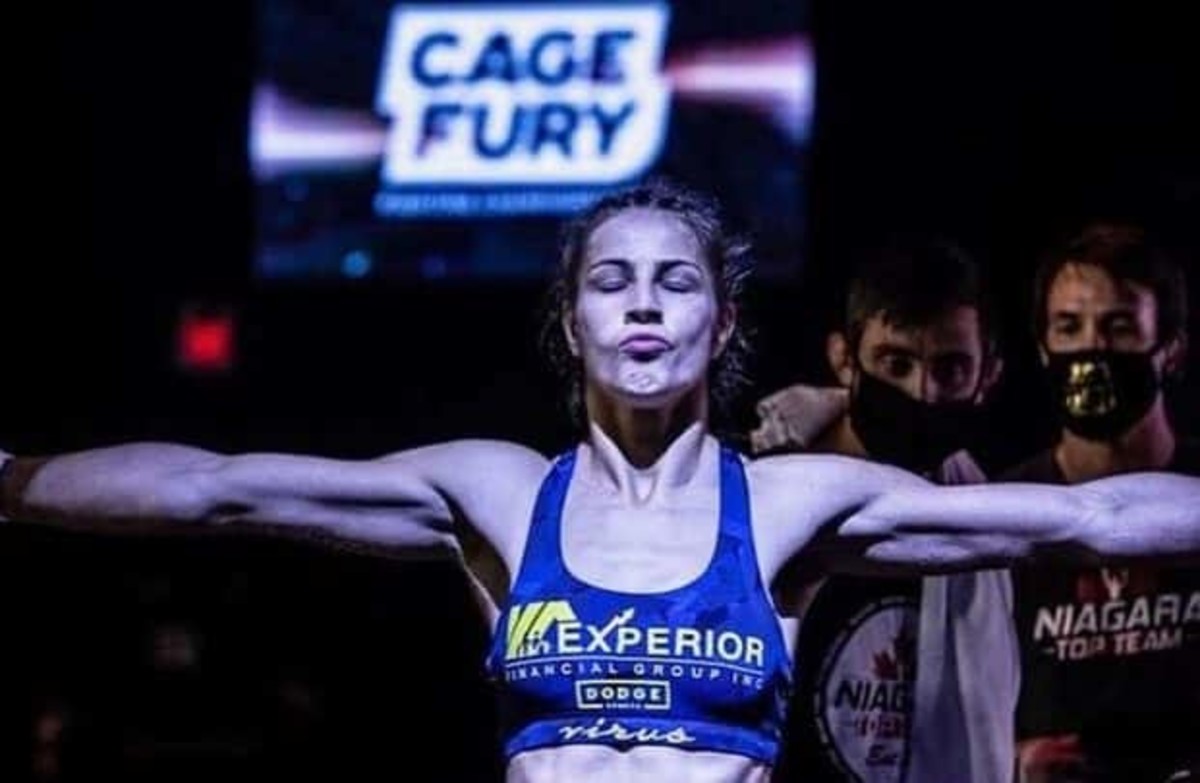 "I've had tons of life experiences where I've had uncomfortable situations that I've had to get through. That's why they say respect your elders. They know more than you. I know more now than I did five years, or ten years ago, and so I feel that definitely gives me the advantage going into it," says Jasudavicius. "Because I've been in tough spot. I'm 32-years-old. I've definitely had my fair share of hard times and sticky situations."
Well before she even thought of fighting, Jasudavicius backpacked across Europe on her own. And at one point, she even found herself in the unenviable position of having to make ends meet in certain countries because her ATM card, and its five-digit code, were invalid at local banks. If she can manage that, she can manage the Octagon for 15 minutes.
"I had to do some skeeving and slying [laughs], kind of to make my way through Europe. But it was sick. Such a life changing opportunity. I recommend everyone travel and do that," she said.
Daddy Dana should be ready for a show from Jasudavicius on Sept. 14
In Las Vegas, she will face Brazilian talent Julia Polastri. A fighter Jasudavicius admits will be the stiffest test of her career. But like any young fighter, she feels immensely confident about the matchup and expects a finish on fight night. Especially, after working with UFC competitors Emily Whitmire and Ji Yeon Kim during her fight camp at Syndicate MMA.
One complaint, for some in the media, about this season of the series, is that UFC President Dana White has been handing out contracts far easier than in years past. Where a finish was a necessity to even be considered for a contract. Jasudavicius sees the switch as a pro and con. However, the goal on Tuesday is simple: Put on a show for Daddy Dana.
"I'm always looking for the finish. So this [series history] plays right into it. I don't like that he's giving out contracts for people not getting finishes," she said with a laugh. "[But] a little bit I do like it, just in case. I'm looking to finish. I'm looking to put on a show for Daddy Dana."