Credit: SlapFIGHT Championship
Just days before their Nov. 12 return to pay-per-view on FITE, SlapFIGHT Championship has some high hopes for the continued growth of the promotion, and the sport as a whole, in 2022 And two key pillars in that progression could very well be through brand expansion with the help of Triller, and further legitimizing the industry with steroid testing and improved fighter safety protocols.
In just three years, SlapFIGHT Championship CEO JT Tilley and his staff have turned an organization that many sports would roll their eyes at, into something with serious viability. The promotion has grown exponentially on the back of a successful YouTube channel that currently boasts 143,000 subscribers and has earned tens of millions of views for their video content that includes some of the best slap fighters in the world.
On Friday night, they will present their second PPV card on FITE with SlapFIGHT Championship: Redemption. An event headlined by a super-fight pitting middleweight champion "Coach Killa" versus long-reigning light heavyweight champion "Wolverine." The winner will go home with both belts in a promotional first. This latest PPV event is happening because the organization caught the attention of FITE earlier this year, from its ability to put forth an entertaining product and cultivate a fan base. Yet, the well-known combat sports and wrestling-centric streaming service was not the only company that saw value in this unusual new combat sport.
SlapFIGHT Championship CEO JT Tilley talks plans for partnership with Triller in 2022
Around the same time that Tilley and his team were preparing their first PPV card, he was approached by an executive at Triller's sports division. The company that owns a popular music video app has made waves in the combat sports realm with their promotion Triller Fight Club. And it seems that the sports side of Triller wants to expand their catalog of content by getting into the SlapFIGHT Championship business.
"They have a new head of sports for Triller. He used to work for TMZ. He was one of the producers for TMZ, I believe for 16 years. And they lured him away recently to make some changes to the Triller sports program. So I've been speaking with him quite a lot actually. I'm a mixed martial arts coach and a promoter, so he called me one night and I was at the gym. I was kind of irritated to get a phone call during work," Tilley told MixedMartialArts.com with a laugh.

"And he said he really loved what we were doing and [asked] how could he be part of it. I said, 'Well, earlier today we signed a contract with FITE, so you're a part of it [Triller recently purchased what was formerly FITE TV].' We all connected the dots, and the only thing I can actually say now is that we are expecting to be heavily involved with Triller in 2022. I don't know to what scale, but I do know they've been really supportive and we've been in contact a lot."
Tilley explains disguising inherent safety in a radical sport
A major part of SlapFIGHT Championship's appeal is what feels like an underground and unregulated presentation. Tilley fully admits that is by design. However, looks can be quite deceiving, and the promotion does try to strictly regulate their events and make fighter safety a serious priority.
"Yes, we regulate our sport, but we don't always advertise it just because we do want to come across to the fans as a radical sport. For example, at each of our events, we have two and a half inches of EVA padding on the floor. But we purposely buy black just so it looks like a hard floor. When our fighters fall, they fall to a mat. Just like boxing, MMA, Jiu-Jitsu, they're safe," he said. "But the fans look at it more as a dangerous aspect when they see the fighters fall like that."
SlapFIGHT Championship events have a doctor on-site, and it's one Tilley has worked with for several years while promoting MMA events in and around Missouri. The promotional boss claims about 10% of the budget that goes towards putting on events go to having medical professionals on hand at all times. The promotion's doctor is set up behind the cameras while bouts take place and hearing tests are conducted before and after fights to make sure long-term damage is not being done to the eardrums of fighters. Since slaps often land on the cotton ball-filled ears of competitors.
"I don't want anyone to get hurt while we're building this sport. It's a really dangerous sport, and sometimes our rules are a little bit radical. We sometimes have unlimited round matchups. I don't want to be the person regulating those matchups. I want somebody that's gone to medical school to stand there and [watch these fights]," said Tilley.
The promotion's lead doctor is also currently working on a prototype ear covering, that would wrap around the head, and aims to be a long-term upgrade over the sports traditional use of cotton balls to safeguard against serious eardrum trauma.
Steroid testing comes to slap fighting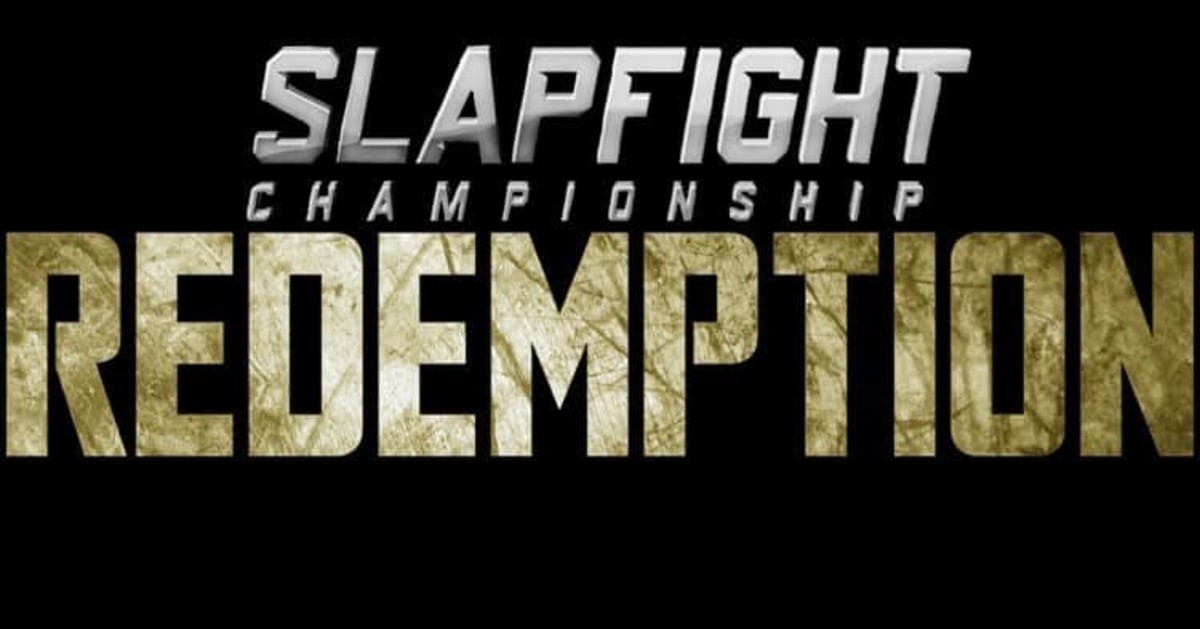 Tilley also views steroid testing as another crucial element in helping to push the sport closer to legitimacy. The promotion started pre-fight testing in the lead-up to their August PPV and actually had one competitor fail their test. That athlete was promptly removed from the card. For an organization that is still in its very early stages, and generates the majority of its revenue from YouTub views, it can be difficult to fund something as expensive as steroid testing and was a key factor in why it hasn't been done until recently.
However, having been a part of MMA for more than a decade, Tilley knew testing would be a necessity the more the promotion, and the sport progressed. With the organization now in the PPV business, they secured a partnership with Roidtest to test athletes for future events. As they look to avoid the stigmas that MMA once dealt with, take the industry to a new level, and keep fighters safe.
"We don't necessarily advertise steroid testing but it's very important. We have a medical doctor that works for us, and he's at every one of our events and filmings. One of the things we have been working on with him is our concussion protocols. And one of the conversations we had was, in every combat sport known to man if you take steroids you're cheating. Especially in a sport like this where it's not necessarily how skilled you are at moving out of the way and dodging, as it's about how much [damage] can you take," Tilley says.

"You know the fighters in PRIDE that weren't regulated used to do steroids back in Japan. Those guys wouldn't tap quite as quickly, and they'd get up from getting knocked down more quickly. Because when you do steroids, it doesn't only just affect your body, it affects your mind," he added. "The last thing we want is a guy to get knocked down, and because of the steroids in his body, he stands up and takes more than he should. We also just don't think it's fair for a guy that's on steroids to be striking another guy in the face that's not allowed to get out of the way."
SlapFIGHT Championship: Redemption headlined by a 'loser leaves' title fight
SlapFIGHT Championship: Redemption kicks off at 8 pm ET on FITE. The card costs just US $9.99 and features a main event where one man will walk away with both the middleweight and light heavyweight championship. That should be enough to motivate titlist's "Coach Killa" and "Wolverine" [SlapFIGHT uses nicknames over actual names for talent]. But also, staying in the promotion will be on the line for both men. As the night's headliner will not only be a title fight but a "loser leaves" matchup.
"The loser will no longer compete at SlapFIGHT Championship. This is a loser leaves match and that's why this is an important fight," said Tilley.

Join the discussion on this topic…