Oct 5, 2018; Las Vegas, NV, USA; Khabib Nurmagomedov is pictured while giving an interview with Joe Rogan during weigh ins for UFC 229 at T-Mobile Arena. Mandatory Credit: Stephen R. Sylvanie-USA TODAY Sports
Khabib Nurmagomedov may be retired from the UFC, but he seems to be rounding into one of the promotion's best social media trash talkers after a busy week of firing off some shots at lightweight stars Justin Gaethje and Tony Ferguson.
Despite being done as an active MMA fighter, "The Eagle" has kept himself busy with coaching a horde of Dagestani friends and family like Islam Makhachev and Said Nurmagomedov at American Kickboxing Academy. He has also become more involved in social media and is evolving into a pound-for-pound threat there as well.
On Thursday, the Russian sports icon decided to line up lightweight contender Gaethje (23-3) in his crosshairs, after the UFC 268 "fight of the night" winner told ESPN that not getting a title shot next would be a "travesty to the integrity of the sport." Nurmagomedov (29-0) did not take kindly to the notion since his lifelong friend and protege Makhachev (21-1) is on a nine-fight win streak in the Octagon and believes he should be next in line for a title fight.
Khabib Nurmagomedov takes shot at Justin Gaethje by referencing 2020 submission win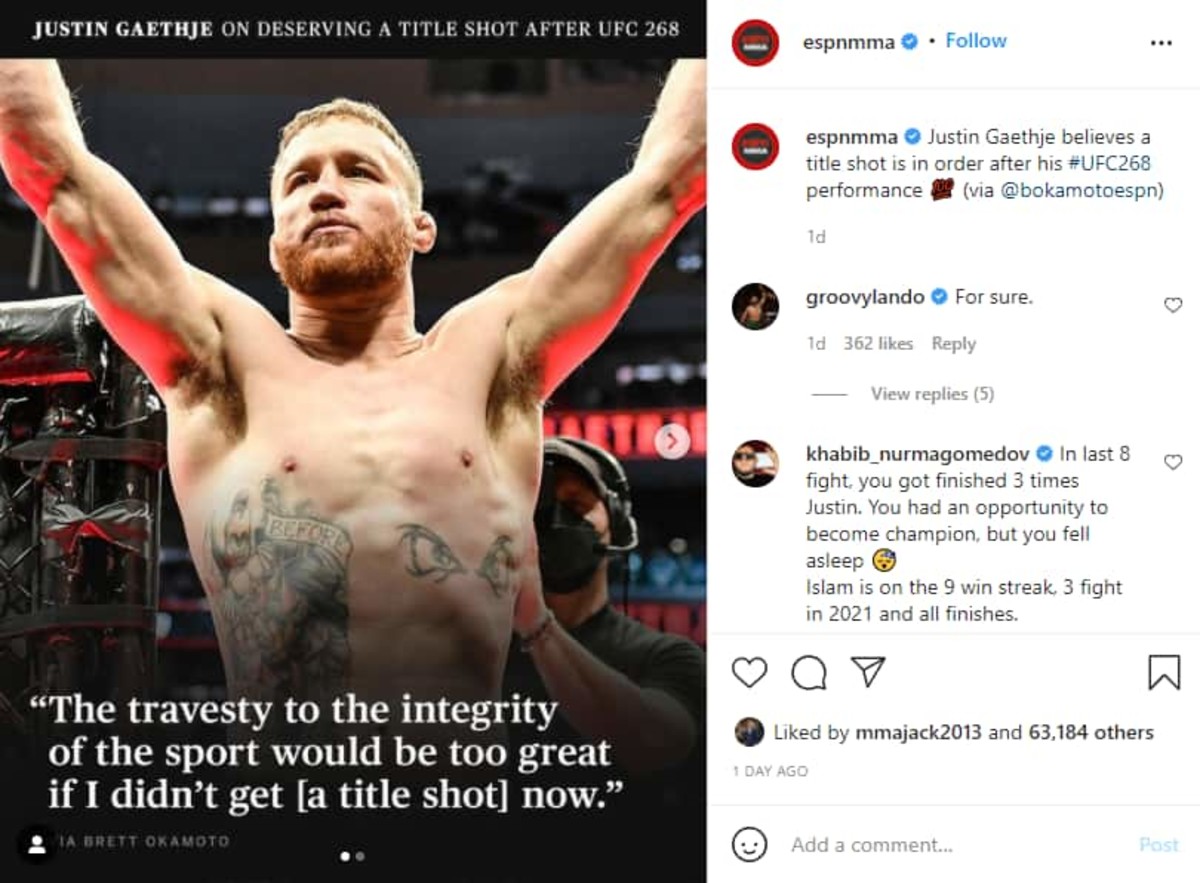 "In last 8 fights, you got finished 3 times Justin. You had an opportunity to become champion, but you fell asleep," Nurmagomedov wrote in the comments section of an ESPN MMA Instagram post. "Islam [Makhachev] is on the 9 win streak, 3 fights in 2021, and all finishes. Just shut up and admit that Islam deserves this title shot, not you."
That was a solid verbal haymaker landed by Nurmagomedov. Not only did he make a strong case for his friend's championship pursuits, but he was also able to loop in a colorful reference to his own October 2020 submission win over Gaethje in his final fight. Burn…deep burn.
Tony Ferguson gets "Eagle" heat after latest Twitter callout of Nurmagomedov
Yet, the former lightweight king was not done there. On Friday, one-time 155-pound titlist Ferguson (25-6) took to his Twitter again in his years-long tradition of claiming Nurmagomedov avoided facing him when they were the top forces in the division for much of the last six years.
"Last Time I Saw You, Ya Ran Off To A Different Country Like A Little Bitch To Avoid Our Title Fight. The Time Before That Ya Faked A Stomach Ache To Get Out Of Our Title Fight."
Ferguson and Nurmagomedov were booked for bouts on five different occassions, with all of them falling through for various reasons.
In the past, Nurmagomedov often ignored "El Cucuy's" trash talk advances, but not retired-Khabib. "The Eagle" responded to his long-time rival with a Friday body shot tweet that went after Ferguson for his recent three-fight losing skid. A run of fights that produced some of the worst performances of the 37-year-olds career.
"For the last three years Tony Ferguson never won a single round in the UFC," he wrote. "Some of the rounds you lost 10:8. Since 2015, you won only one fighter from top 15. Tony, it's clear picture here, I'm not gonna go low and personal, not gonna insult you, it's just facts.
Ferguson has not won a fight inside the Octagon since a victory over Donald Cerrone in June of 2019. He is currently ranked at 10 in our MixedMartialArts.com UFC lightweight rankings.
Former interim champion Gaethje — ranked #3 in our 155-pound rankings — has won four of his last five with his lone defeat against Nurmagomedov.
Which social media barb from this week was the most stinging from the lightweight GOAT?

Join the discussion on this topic…